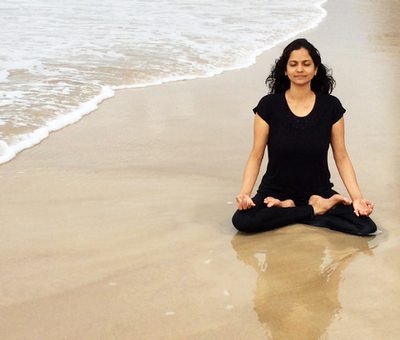 Sashi Sarda has completed her one year comprehensive Teachers' Training Course in Yoga from The Yoga Institute, Santa Cruz (E) in May 2014, specializing in Patanjali's Ashtanga Yoga. Before undertaking this course, she also completed a one month Yoga Teachers' Training Course for minors from The Yoga Institute, Santa Cruz (E) in September 2012. She has also received extensive formal training in Iyengar and Hatha Yoga techniques under expert guidance.
A strong advocate for alternative therapies to treat illnesses and minor health issues, she is extremely conscious about her diet and exercise regime. Having tried many forms of exercise routines such as weights, aerobics, kick boxing, bootcamp style training, power yoga and more, she finds Yoga to be the most fulfilling in terms of providing good health, improved appearance and peace of mind – a balanced form of exercise for all age groups.
Her firm belief – "Yoga doesn't take time, it gives time". It is the practice of quieting the mind and bringing it into a state of complete awareness, of rejuvenating the body and bringing it into a healthier state of being. While all forms of exercises are valuable, each with their individual benefits and strengths, the balance of mind, body and soul which Yoga helps to achieve is unmatched. Whereas other forms of exercise focus on looking good, Yoga works on making you healthy, peaceful and beautiful from outside and inside.
Yoga is not a work-out, it is a work-in.
(Pictures courtesy Yoga Food Love)
Sashi is also a professional counselor, having completed a two year course in general counseling under Dr Avinash D'Souza, one of the leading psychiatrists in Mumbai.
Visit Yoga Central or call at +91 99675 31905 to speak with her and find a way to lead a happy, healthy life.